Posted: July 1, 2022
Filed under: Action/Adventure, At the Movies, Humor, Movie Review, Movies
| Tags: Action/Adventure, At the Movies, Brad Pitt, Channing Tatum, Kaye Lynne Booth, Lost City, Romantic Comedy, Sandra Bullock, Writing to be Read
Leave a comment
After watching Lost City, starring Sandra Bullock and Channing Tatum, and featuring a cameo appearance by Brad Pitt, all I can say is that it was okay once you get over the fact that the plot was very familiar, imitating the plot from the 1984 movie with Kathleen Turner, Michael Douglass and Dany DeVito, Romancing the Stone. A romance adventure writer gets caught up in a real search for lost treasures and goes on an adventure, which could be the plot for one of her stories.
Sandra needs to come down off the Botox wagon before she is unrecognizable, like so many Hollywood has-beens. This actress whom I used to love to watch, now looks like a puffed up chipmunk, who refuses to age gracefully. Bullock is about to join the ranks of Botox-faces like Joan Rivers, Reba McIntyre, and Sally Fields, and as far as I'm concerned, that is not a good thing.
This movie isn't bad, but Bullock is no Kathleen Turner; Channing Tatum is no Michael Douglass; and while Brad Pitt is easier on the eyes than Danny DeVito, he's not in the movie long enough to even be called a comic sidekick. The same, but different is what this movie is, but with maybe too much the same and different that isn't that great. The humorous scenes weren't that funny, the exciting scenes just weren't that exciting and I had a hard time buying in. Face it. A drive through the jungle with feet sticking out of the car, tied to the chair leg, in true life would have resulted in a possible broken ankle or other injury. Couldn't they have come up with something just a bit more original, and humorous than traipsing through the jungle in an evening gown? It's been done a thousand times. Really.
Lost City was fun to watch, if slightly unbelievable, and once I set aside the fact that I seen another, better version of this story years ago, it was quite entertaining.
_______________________________________________________________________
Kaye Lynne Booth lives, works, and plays in the mountains of Colorado. With a dual emphasis M.F.A. in Creative Writing and a M.A. in Publishing, writing is more than a passion. It's a way of life. She's a multi-genre author, who finds inspiration from the nature around her, and her love of the old west, and other odd and quirky things which might surprise you.
She has short stories featured in the following anthologies: The Collapsar Directive ("If You're Happy and You Know It"); Relationship Add Vice ("The Devil Made Her Do It"); Nightmareland ("The Haunting in Carol's Woods"); Whispers of the Past ("The Woman in the Water"); Spirits of the West ("Don't Eat the Pickled Eggs"); and Where Spirits Linger ("The People Upstairs"). Her paranormal mystery novella, Hidden Secrets, and her short story collection, Last Call and Other Short Fiction, are both available in both digital and print editions at most of your favorite book distributors.
When not writing, she keeps up her author's blog, Writing to be Read, where she posts reflections on her own writing, author interviews and book reviews, along with writing tips and inspirational posts from fellow writers. In addition to creating her own very small publishing house in WordCrafter Press, she offers quality author services, such as editing, social media & book promotion, and online writing courses through WordCrafter Quality Writing & Author Services. As well as serving as judge for the Western Writers of America and sitting on the editorial team for Western State Colorado University and WordFire Press for the Gilded Glass anthology and editing Weird Tales: The Best of the Early Years 1926-27, under Kevin J. Anderson & Jonathan Maberry.
In her spare time, she is bird watching, or gardening, or just soaking up some of that Colorado sunshine.
____________________________________________________________________
Join Kaye Lynne Booth & WordCrafter Press Readers' Group for WordCrafter Press book & event news, including the awesome releases of author Kaye Lynne Booth. Get a free digital copy of her short story collection, Last Call and Other Short Fiction, as a sampling of her works just for joining.
---
Posted: December 20, 2019
Filed under: Action/Adventure, Jeff's Movie Reviews, Movie Review, Movies, Science Fiction
| Tags: Action/Adventure, Jeff Bowels, Jeff's Movie Reviews, Science Fiction, Star Wars, The Rise of Skywalker, Writing to be Read
7 Comments

So Who's Skywalker, and Why Are They Rising?
by Jeff Bowles
If you're a Star Wars fan, watching The Rise of Skywalker for the first time is a bit like having your cake and … throwing it against the wall. It provokes an almost drunken feeling, madly lilting from truly satisfying and charming to holy cow, why was that necessary? Unfortunately, director J.J. Abrams has assigned himself too big a task, choosing to tie up not just his trilogy, but also to revive one more time themes and characters that go all the way back to 1999's The Phantom Menace (remember, kids, dyslexic Star Wars numbering applies: that's four five six, one two three, seven eight nine).
Admittedly, it would seem, this is Abrams game to lose. He set a high bar for the franchise going forward with The Force Awakens, and Rian Johnson made something of a bold statement in The Last Jedi, which proved incredibly divisive for fans. The Rise of Skywalker will not settle the debate over whether these new Disney-era movies are more jaded cash grab than fitting continuation. You may love or not love this concluding chapter of The Skywalker Saga. Like me, you might do both at the same time.
It's no big spoiler to say the plot revolves around the return of Emperor Palpatine. The film tells us what he's up to right there in the classic opening crawl, and lo and behold, he appears within the first few minutes. Palpatine has plans to convert the somewhat nebulously conceived First Order into a super supreme new Empire. All the chess pieces are in play, and trust him, he's been planning this one a long time.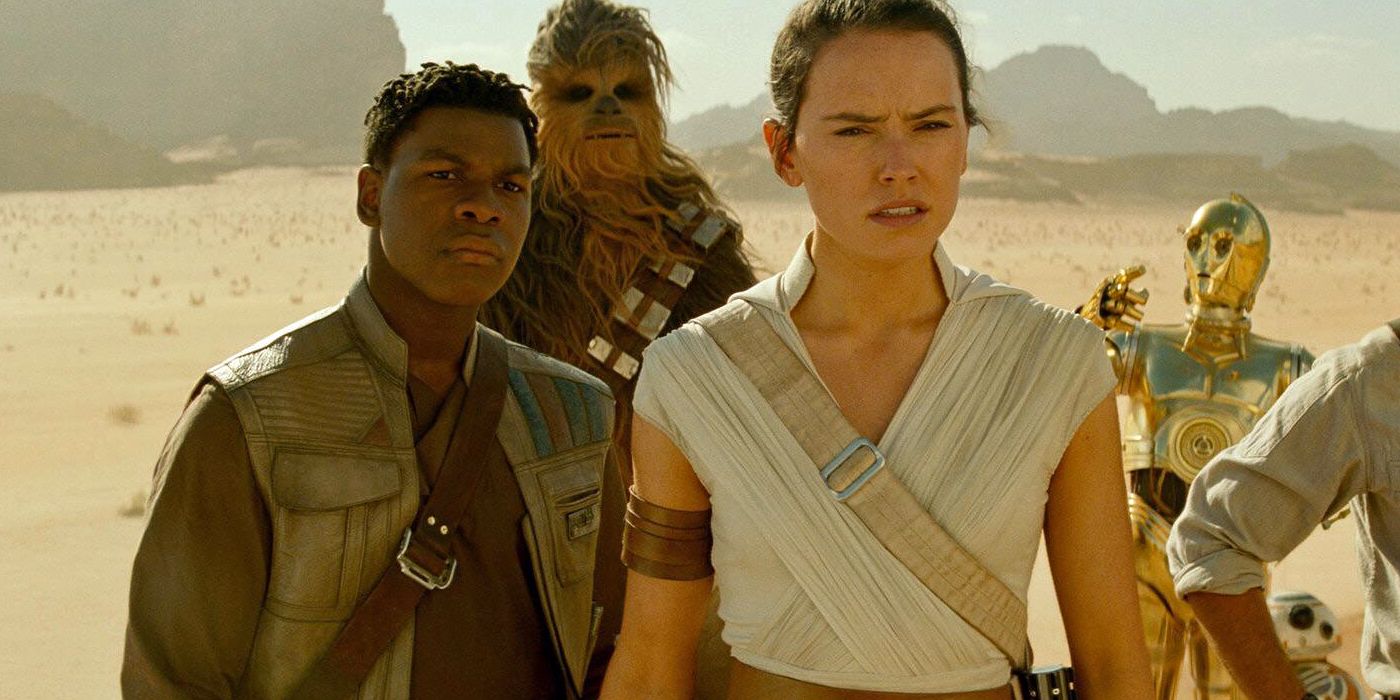 The fun new cast we met in The Force Awakens return with typical enthusiasm and once again prove good actors and genuinely funny moments make these movies more enjoyable to watch than the prequels. Rey (Daisy Ridley) has continued to train as a Jedi, now under the tutelage of General Leia Organa. Carrie Fisher, of course, passed away shortly before the release of The Last Jedi, but the filmmakers have worked a minor computer-generated miracle and cut in a mix of outtakes and CG reconstructions to make it appear as if she finished the trilogy. The effect is never quite perfect, but her presence is nice, and the movie would suffer without her.
On the other hand, The Rise of Skywalker is chalk full of fan service moments that don't work. Some aren't sought for or needed, and others simply aren't earned. Why, for instance, does Ray have to travel all the way back to Luke's lost island just so he can pop up blue-ghost style? What, no frequent flyer miles, Master Skywalker? We can Force project ourselves clear across the galaxy, but it's a no on the house calls? Oscar Issac's Poe and John Boyega's Finn get more to do in this movie, which is beneficial, but more than a few characters get much less screen time in leu of new personnel, most of whom are women, which is bound to piss off mega-macho male fans still irate Rian Johnson dared suggest women can be more heroic than Jedi dudes and scoundrel bros.
Also returning are legendary former cast members Billy Dee Williams as Lando Calrissian and the afore mentioned Ian McDiarmid as the Emperor. It's nice to see Lando back in the fray, and even the Emperor is creepy enough to give his own past performances a run for their money. But really, I didn't sign up for Palpatine still kicking around. That opening crawl is an odd one, because before the movie even gets rolling, you have to shift gears and tell yourself, Oh, I guess we're doing that thing with the evil old Emperor again. Good to know.
The plot moves quickly, sometimes too quickly, proof positive the screenplay has opted to cover too much ground. There are plot twists aplenty, some of which, again, are not earned. Another annoying thing for fans—or should I say, fans of The Last Jedi—is the fact J.J. Abrams goes a long way to wipe out some of the more intelligent counter-programming of the previous film. Psst, remember how we found out Rey's parents were nobodies? Well…
Check out my video review above, rebel scum!
Ultimately, I appreciate this movie and the things it gets right. But I haven't felt this cynical about Star Wars since Episode I. There will be many people who don't see The Rise of Skywalker that way, but I think even they will have to admit it doesn't live up to the hype and the massive task laid before it. This movie didn't have to do anything more than tie up the threads of the previous two films. In no way, as far as I can see, did it need to attempt a summation of nine films separated by more than forty years. George Lucas, partially through insatiable revisionism, did a pretty effective job convincing us there would only ever be six Star Wars movies. As a lifelong fan, it pains me to admit these new flicks might not have been necessary. I know, more shocking words were never spoken.
For all its shortcomings, the film still proves enormously charming when it wants to be, and the action scenes are still top notch. Also a highlight, the relationship between Ben Solo and Rey. The penultimate chapter of their story really pulls out all the stops, and ends in a way that's simultaneously poignant, powerful, and in a way, lovely. By no means do the concluding few moments feel more final than anything that's come before, but hell, we don't actually want Star Wars to end, do we? I mean, what would be the point of that? If you're a fan, anyway.
That's what it boils down to. Take someone who's never seen a Star Wars movie to The Rise of Skywalker, and I doubt they'll be impressed. But for folks who have stuck with the series their whole lives, gosh, there's just enough to love to keep the film from being a wash. Now the real struggle begins, trying to find out what George Lucas intended for these films and then arguing on the internet over Disney's opt-in to Force choke the life out of his original concept.
Jeff's Movie Reviews gives Star Wars: The Rise of Skywalker a seven out of ten. I would've given it a six, but you know, lightsabers and junk. Now man your ships, and may the Force be with you.
---
Jeff Bowles is a science fiction and horror writer from the mountains of Colorado. The best of his outrageous and imaginative short stories are collected in Godling and Other Paint Stories, Fear and Loathing in Las Cruces, and Brave New Multiverse. He has published work in magazines and anthologies like PodCastle, Tales from the Canyons of the Damned, the Threepenny Review, Nashville Review, and Dark Moon Digest. Jeff earned his Master of Fine Arts degree in creative writing at Western State Colorado University. He currently lives in the high-altitude Pikes Peak region, where he dreams strange dreams and spends far too much time under the stars. Jeff's new novel, God's Body: Book One – The Fall, is available on Amazon now!
Check out Jeff Bowles Central on YouTube – Movies – Video Games – Music – So Much More!
---
You can keep up on what Jeff's been watching and catch all of his great movie reviews the third Friday of each month on Writing to be Read. Subscribe to email or follow on WordPress today.
---
Posted: April 1, 2016
Filed under: Book Review, Fiction
| Tags: Action/Adventure, Book Review, Chris Tucker, Creative Fiction, Fiction, Whispering Death
Leave a comment
If you took the wild ride of Lost Voyage and loved it, then you'll be happy to join in on the antics of NESA operatives, Sean Mercer and Pat Vigil, as they uncover a plot and race to stop an egotistical madman, who happens to be the kingpin of a huge pharmaceutical company, from unleashing a new drug resistant strain of TB on the world, for his own materialistic profit in Whispering Death, by California author, Chris Tucker.
While their boyish antics are entertaining, Sean Mercer and Pat Vigil are characters we'd like to know more about. For instance, how can they always be joking, even in the face of death? And how can they be so confident that they will always come out unscathed? It almost seems as if they are secret super heroes, carrying out almost super-human feats, and we just haven't been let in on the secret.
This story has a good plot line, but execution of the story is lacking. It should be an action-packed thriller, which keeps readers on the edges of their seats and anxious to turn pages, but without continuous POV, we don't stay with any one character long enough to feel the tension that we know should be there.
I give Whispering Death 2 Quills:             
---