Posted: December 8, 2021
Filed under: Books, Children's Books, Education, Inspirational
| Tags: Charity, Giving, Growing Bookworms, Parenting, Robbie Cheadle, Teaching, Writing to be Read
50 Comments
Christmas is just around the corner and many people are gearing up for holidays, family gatherings, presents, and lots of delicious food. Of course, not everyone is in this privileged position and there are millions of people who will not have any of these things.
I thought December would be a good time to write about teaching children about charity.
People who care about earth and the people and animals we share it with want to raise generous children who understand the importance of charity and giving back to society. It is a good idea to raise the concept of charity with our children early on and this can be done in a way that doesn't scare them or make them fearful.
From a young age, I told my children that while there are many children whose families are wealthier than we are and who have more than we do, there are millions of children who have far less. We discussed children that have lost their parents and who are living in orphanages or as foster children. We spoke about schools that give children a hot meal at lunch time and I explained that for some of those children it is the only meal they get in a 24-hour period.
I tried to involve my boys in my own charity activities which included making up packs of groceries for needy pensioners, donating books to underprivileged schools, and giving used clothing to various charities.
When children are part of activities that help others who are less fortunate than they are, it gives them a sense of perspective about their own good fortune to have a nice home, food to eat, and schooling. As they get older, they will also learn to appreciate a loving and supportive family. Being generous helps children learn to appreciate what they have and be more grateful. It makes them feel useful and fosters empathy.
My children have both grown into caring and empathetic young men who see a need and are willing to put their own money and time behind helping other people.
Quote from Michael: "Children need to learn about charity because people have to work together to create a good environment."
Every Christmas, my sons and I undertake 10 hours of community service each. Michael is auto-immune so we do their hours from the safety of our own home and, as Michael and I like to bake, our activities often involve these activities.
Last year we, the boys and I, made 150 goodie bags for the elderly residence of a local old age home. My nephews helped with this activity and the four boys baked and iced 80 gingerbread boys. I made 70 slices of shortbread and each bag contained a baked good, some chocolates, and a Christmas joke.
This year, we baked two beer-box cakes for a Christmas party for an underprivileged school. We had fun adding the sprinkles.
We are also making 150 Christmas crackers filled with three delicious chocolates for the old age home. So far we have made 40.
These are all fun activities to do with children, you can invite the kids in the neighbourhood or your nephews and nieces, and they bring a lot of joy to the recipients.
Another way of teaching children about giving and generosity is through reading to them.
I will never forget the scene from Little Women when Marmee asks her four daughters if they will give their Christmas breakfast away to a poor family:
"'Merry Christmas, little daughters! I'm glad you began at once, and hope you will keep on. But I want to say one word before we sit down. Not far away from here lies a poor woman with a little newborn baby. Six children are huddled into one bed to keep from freezing, for they have no fire. There is nothing to eat over there; and the oldest boy came to tell me they were suffering hunger and cold. My girls, will you give them your breakfast as a Christmas present?'
They were all unusually hungry, having waited nearly an hour, and for a minute no one spoke; only a minute, for Jo exclaimed impetuously,—
'I'm so glad you came before we began!'
'May I go and help carry the things to the poor little children?' asked Beth, eagerly.
'I shall take the cream and the muffins,' added Amy, heroically giving up the articles she most liked."
This is just one of many wonderful books that teach children about sharing, giving and the real meaning of Christmas.
Another, one of my personal favourites, is How the Grinch Stole Christmas by Dr Seuss.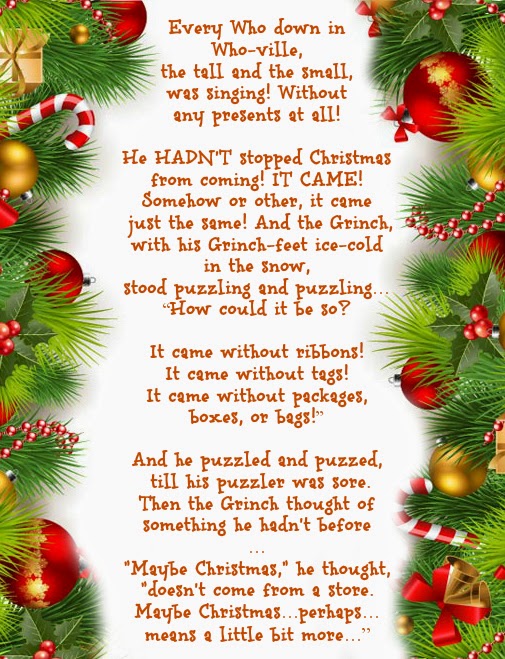 I must admit that every time I read that quote I get goosebumps.
This is the last Growing Bookworms post for 2021. If you celebrate, I wish you and your families a wonderful Christmas and all the best for the New Year. If you don't celebrate Christmas, have a happy holiday period.
About Robbie Cheadle
Robbie Cheadle is a South African children's author and poet with 9 children's books and 2 poetry books.
The 7 Sir Chocolate children's picture books, co-authored by Robbie and Michael Cheadle, are written in sweet, short rhymes which are easy for young children to follow and are illustrated with pictures of delicious cakes and cake decorations. Each book also includes simple recipes or biscuit art directions which children can make under adult supervision.
Robbie has also published 2 books for older children which incorporate recipes that are relevant to the storylines.
Robbie has 2 adult novels in the paranormal historical and supernatural fantasy genres published under the name Roberta Eaton Cheadle. She also has short stories in the horror and paranormal genre and poems included in several anthologies.
Robbie writes a monthly series for https://writingtoberead.com called Growing Bookworms. This series discusses different topics relating to the benefits of reading to children.
Robbie has a blog, https://robbiesinspiration.wordpress.com/ where she shares book reviews, recipes, author interviews, and poetry.
Find Robbie Cheadle
Blog: https://www.robbiecheadle.co.za/
Blog: robbiesinspiration.wordpress.com
Twitter: BakeandWrite
Instagram: Robbie Cheadle – Instagram
Facebook: Sir Chocolate Books
______________________________________________________________________________________________
Want to be sure not to miss any of Robbie's "Growing Bookworms" segments? Subscribe to Writing to be Read for e-mail notifications whenever new content is posted or follow WtbR on WordPress. If you found it interesting or entertaining, please share.
---
Posted: December 23, 2019
Filed under: Editorial, Opinion
| Tags: Christmas, Giving, Spirit of Christmas, Writing to be Read
Leave a comment
When my kids were little, we didn't have a lot of money, and many Christmases when there was nothing under the tree for me. It didn't matter as long as there was something for each of my kids to open. To me, the joy of Christmas is in giving and making others happy. With twelve grandchildren, I haven't always been able to do that, but this Christmas I was able to get a little something for my kids and for each one of my grandchildren. It wasn't anything much, but it isn't what I gave them that matters, as long as it puts a smile on their faces when they open them up on Christmas day.
This holiday is supposed to be a celebration of the birth of Jesus, right? When I was a girl, I believed that since Jesus is in heaven now, we couldn't give him birthday gifts, so we gave gifts to each other instead. As I grew older, I found that giving gifts made me feel good inside. I came to understand that we give to each other in tribute to the greatest gift of all. The spirit of Christmas is about love, and kindness, and giving.
When watching the goings on that occur at this time of year, one can't help but see that it has evolved into more of a commercialized celebration of materialism. The pre-Christmas hype starts even before Thanksgiving, as all the brands compete for our attention. Buy! Buy! Buy!  We find ourselves competing with our neighbors to see who has the best and brightest decorative display in our yards, or give the most expensive gifts. We wait in lines through the wee hours of the night, just to ascertain that we get the best deals of the year on Black Friday, and some are willing to do bodily harm if necessary, in order to reach that goal. We're all so busy keeping up with the Kardashians and emulating our favorite Hollywood icons that we've lost sight of the true spirit of Christmas.
We had a recent death in our family this past year, which brought together family who hadn't seen one another in many years, and served as a reminder of how quickly things can change. It's important to let those we care about know it while we can, because they could be gone from this life in the blink of an eye. We don't have to give the latest video game systems or  state-of-the-art tablets. We don't have to buy the most expensive doll in the store or the deluxe gift box set. We can't always be with all those who are dear to us on Christmas, but even a Christmas card with a lottery ticket inside, or a pocket knife, or a $5 gift basket, can let someone know that we are thinking of them, even if we can't be with them in person. When they open it, they think of us and the knowledge that we love them and their feelings for us are what generates smiles, not the gift inside the wrappings. The love behind the gift always shines through, and that's what gives us that good feeling inside. And that is the true spirit of Christmas.
---
Like this post? Let me know in the comments. You can be sure not to miss any of Writing to be Read's great content by subscribe to e-mail or following on WordPress. If you found it helpful, please share.
---