Posted: October 18, 2019
Filed under: Comic Hero, Jeff's Movie Reviews, Movie Review, Movies, Super Hero
| Tags: Batman, DC Comics, Jeff Bowles, Jeff's Movie Reviews, Joker, Writing to be Read
8 Comments

Who's Laughing now? Anyone? Anyone?
by Jeff Bowles
At one point in time, the Joker was the super villain you loved to hate. Introduced in the very first issue of Batman, published in 1940, the Clown Prince of Crime has spent decades as an icon of the kind of humor that kills. He's crazy, occasionally buffoonish, almost always invested in some overly complex hair-brained scheme, and what else can be said? The guy loves to laugh.
Except the Joker has evolved in the last ten years or so, predicated by Heath Ledger's legendary turn in 2008's The Dark Knight. His Joker was different, more menacing, quicker to kill with a gun or a knife, as opposed to laughing gas or a rubber chicken set to explode. This was not the Joker that generations of fans had grown up with, but Ledger's performance was outstanding, and the fact that he died before the movie came out only increased his popularity. Warner Brothers and DC Comics seemed to have decided something at that point. The Joker people really wanted to see was less Cesar Romero and Jack Nicholson and more Ted Bundy and Jeffrey Dahmer. Enter Jared Leto's performance in 2016's Suicide Squad, which, while certainly enthusiastic, was more or less utterly ridiculous and clearly manufactured to up the ante on Ledger's Joker on every front.
And now we finally have a Joker standalone film, starring Joaquin Phoenix in the title role. It's R-rated, morose as a funeral, and seems to have misplaced the classic jolly clown that keeps hyenas as pets and shacks up with a blonde in a jester costume. Notably, even DC Comics has altered the Joker in their own source books, because, I suppose, they don't understand what too much of a good thing is. This character has in recent years been a literal monster, a frightening urban legend, a crazed sadist, who in one famous 2009 story line, removed his own face and pinned it to a wall (though he still had time for a joke or two).
2019's Joker film has done something with Batman's arch nemesis that has never been attempted before. It's taken the fun out of him. Phoenix's portrayal is both woeful and terrifying, sympathetic and pityingly childlike. Batman isn't in this movie, but if he were, you'd kind of hate the guy for beating the crap out of poor Arthur Fleck. In basic truth, we never love to hate this Joker. First we feel bad for him, then we want to run the hell away. He's an unfortunate guy in a series of tremendously unfortunate events who learns the value of self-confidence once and only once he's blown away three miscreants on the subway. The movie is more or a less a monotone depiction of a modern mass killer. It's only got one speed: decay.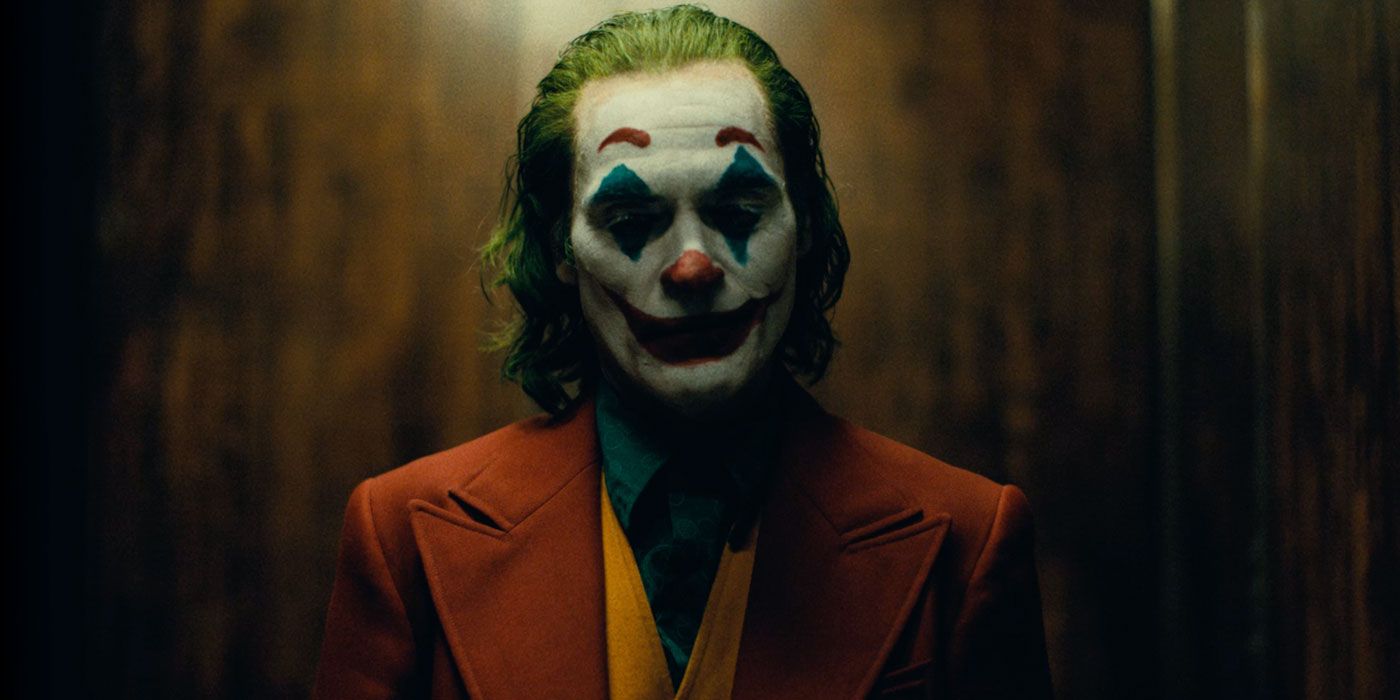 More than this, it feeds into the stereotype that people with severe mental illness are dangerous and scary. I hate to break the movie reviewer fourth wall here, but as someone who suffers from schizoaffective disorder, it's a little demoralizing. As I write this, the guns vs. mental illness debate rages here in America. Phoenix's portrayal of an alienated, unstable, abused, and traumatized individual who one day decides to take his pain out on the world hits a bit too close to home. We live that reality. Do we also want to watch it on the big screen?
The rest of the cast includes Brett Cullen as Bruce Wayne's father, Thomas, Robert DeNiro as a late night talk show host (completing DeNiro's King of Comedy destiny), Francis Conroy as Arthur Fleck's frail mother, and Zazie Beetz, a kind of romantic interest who turns into a Fight-Club-like twist that goes nowhere. A talented cast, not improperly used, but still, to quote the clown himself, why so serious?
And the truly insane thing about it is we're talking about the Joker! Beloved cultural icon since 1940. Yes, it's a more realistic version of the character, and yes, the guy has been shown in so many different ways, there's almost certainly a financially viable infinite multiverse of Jokers who could range from saccharine sweet to, well, Joaquin Phoenix depressing. But for crying out loud, I laughed once and snickered once during the entire running length, and in both those instances, not a single exploding chicken!
I kid of course. Someone ought to.
Ultimately, the real sin of this movie is a cinematic one. It's a bit of a slog. It's the equivalent of painting a jolly portrait using only grey. There are no highs, no true delirium, nothing of the brilliance it yearns to express. Joker isn't exactly a bad movie. It's probably ill-timed, and it's debatably irresponsible, but for true Batman fans, it's gratifying to see a favorite character shown so much respect. Or is that disrespect? Mileage may vary.
If only they'd remembered to invite Batman to the party. Does it say something about 2019 that we'd rather watch a movie about the villain than the hero? Joker is a downward plunge that never comes back up. It never relents, never provides us a single ray of light or shred of hope. That would normally be, you know, Batman's job to provide. Speaking of which, if the guy dressing up like a giant bat is saner than you are, it's entirely possible you're not as funny as you think you are. Which explains… everything, really.
Jeff's Movie Reviews gives Joker a 6 out of 10.
---
Jeff Bowles is a science fiction and horror writer from the mountains of Colorado. The best of his outrageous and imaginative short stories are collected in Godling and Other Paint Stories, Fear and Loathing in Las Cruces, and Brave New Multiverse. He has published work in magazines and anthologies like PodCastle, Tales from the Canyons of the Damned, the Threepenny Review, and Dark Moon Digest. Jeff earned his Master of Fine Arts degree in creative writing at Western State Colorado University. He currently lives in the high-altitude Pikes Peak region, where he dreams strange dreams and spends far too much time under the stars. Jeff's new novel, God's Body: Book One – The Fall, is available on Amazon now!
Check out Jeff Bowles Central on YouTube – Movies – Video Games – Music – So Much More!
---
You can keep up on what Jeff's been watching and catch all of his great movie reviews the third Friday of each month on Writing to be Read. Subscribe to email or follow on WordPress today.
---