Jeff's Movie Reviews – The Trial of the Chicago 7
Posted: October 16, 2020
Filed under: Film Review, Jeff's Movie Reviews, Movie Review, Movies
| Tags: Historical Drama, Jeff's Movie Reviews, The Trail of the Chicago 7, Writing to be Read
2 Comments

Bomb Throwers and Peacemakers
by Jeff Bowles
Movie reviews generally don't work when the reviewer gets too opinionated. Politics, for instance. Just kind of common sense "the movie guy" shouldn't vent his issues with this candidate or that major event all over your nice, unsuspecting blog visit. I don't even have to be qualified to tell you that, do I? I'm not qualified, by the way, not in the least, but then, who among us is? Look ma, no hands.
It should be noted, however, that this movie reviewer is a human being, and as is the annoying habit of most human beings, he can't help actually having an opinion. And a unique perspective, he might add.
I might add. Sorry.
I'm a Millennial, which means Aaron Sorkin's new political courtroom drama, The Trial of the Chicago 7, is perhaps made with me in mind. After all—and it's clear as day for everyone with news access to see—the events surrounding the 1968 Democratic National Convention closely mirror protests and riots happening at this very moment, all over this country, chiefly led or supported by people my approximate age.
It feels like if you're in your twenties or thirties in this day and age, you're expected to be a revolutionary in one sense or another. At one point I had a nice job as a technical writer, and as the young blood, the fresh meat, revolution was supposed to have been my forte. That word, revolution. I wonder if most people understand what it means before an honest to god revolutionary moment has broken out. They definitely understand afterward, as did the eight men put on trial for an alleged conspiracy to incite a riot and provoke Chicago police into acting violently against Vietnam War protesters during the '68 DNC. This whole thing is so tied up in politics, nostalgia, and bright yet somehow startlingly foggy memory that it binds up my fingers and makes it difficult to type the full length of this review. And that's saying something. I haven't even gotten out of my bathrobe yet.
Truthfully? I'm more of a peacemaker than a bomb thrower. I think I recognize a time and place for the latter, but as the former, I can't get behind violence for the sake of ideas, the most transient of all puffy white clouds in humankind's mental skyline. The Trial of the Chicago 7 seems bent on assuring me revolution is a positive thing. Should I take the film's word for it? I wonder. In fact, I find I've always had to wonder.
Aaron Sorkin is known for precisely two things: incredibly sharp pacing, dialogue, and character work that's often rendered too slickly and can add up to less than the sum of its parts. And The West Wing. That too.
That this film has been in the works for fourteen years doesn't surprise me, nor does Sorkin's clear intention to finally produce and release it just before the 2020 general election. Yes, it's star-studded and wonderfully written, and yes, it's also too whimsical and nonorganic to present the events of that time and place with any kind of genuine honesty. Basically, all the historical components are there. These young men, they couldn't have understood what they were in for. Sacha Baron Cohen is too old to play Abbie Hoffman but knocks it out of the park regardless, and Jerry Rubin is basically turned into a two-hour-long stoner joke.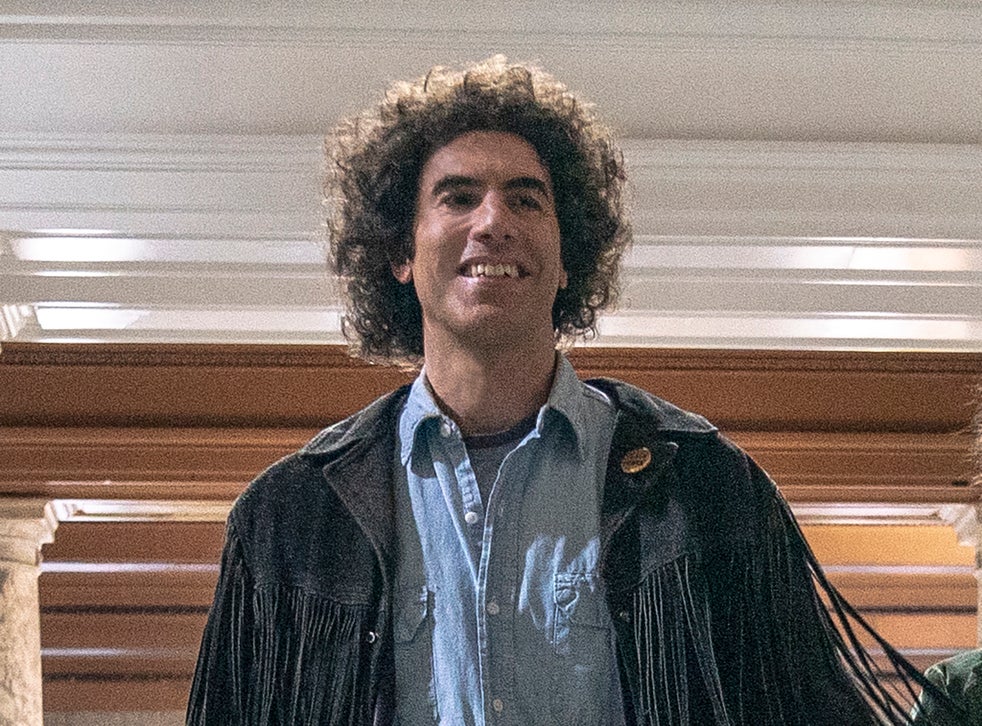 But what the heck? It's not as sensationalized as an Oliver Stone movie, and I believe general consensus circa 2020 is that these eight men stood for something noble and endured a fascist political trial under a federal judge who had no intention of doing anything less than screwing them to the wall. Again, this seems to be Sorkin's intended memorandum, and again, I don't think I'm all that interested in agreeing or disagreeing. I'm the movie reviewer, after all. The movie is what it is, and my role is cut and dry.
Except to say this. If violent (and I must be frank, even nonviolent) revolutions are so effective, why do human beings always seem to wind up entangled in them? My mind works this way: there will never be a positive and lasting human revolution until and unless human beings themselves, on both an individual and collective level, revolutionize their own archaic hearts and minds. This nonsense of us versus them, this grand illusion, it has plagued us from the very beginning. I don't bow down to more of it, and I realize I might be alone in that kind of thinking.
Also, very simply, it must be asked if Sorkin himself is aware of the ability of commercialized entertainment to stoke passionate societal flames almost as easily as calling for blood from behind a podium. The potential responsibility inherent in such an acknowledgment, it may be too much for his kind of star power. Regardless, his new Netflix film is easy to enjoy, to digest, and to dismiss. And really, isn't that the best sort of popcorn entertainment?
I could engage with The Trial of the Chicago 7 a bit further, but not easily, not without being forced into more politics. Systemic racism is addressed, for instance. But not in a way that will satisfy people sick to death of the anglo-savior storytelling trope. Again, nuts to politics, what about the beating heart of a man gagged and shackled in the middle of a US courtroom? That would be Bobby Seale, the event depicted without teeth but after a fashion, I suppose, accurately enough. What about a growing awareness that essentially, we have the same soul, the same tormented passions? Does that kind of thinking seem present or absent in today's politics? Or the politics of 1968? Or of any other era for that matter?
The wheel keeps spinning, the bomb throwers throw, the peacemakers do their best, and somehow, one way or another, all of it seems destined to end up on my TV.
Jeff's Movie Reviews gives Netflix's The Trial of the Chicago 7 a seven out of ten. Good enough for government work, if government work is indeed on offer.
---
Jeff Bowles is a science fiction and horror writer from the mountains of Colorado. The best of his outrageous and imaginative work can be found in God's Body: Book One – The Fall, Godling and Other Paint Stories, Fear and Loathing in Las Cruces, and Brave New Multiverse. He has published work in magazines and anthologies like PodCastle, Tales from the Canyons of the Damned, the Threepenny Review, and Dark Moon Digest. Jeff earned his Master of Fine Arts degree in creative writing at Western State Colorado University. He currently lives in the high-altitude Pikes Peak region, where he dreams strange dreams and spends far too much time under the stars. Jeff's new novel, Love/Madness/Demon, is available on Amazon now!
Check out Jeff Bowles Central on YouTube – Movies – Video Games – Music – So Much More!
---
Want to be sure not to miss any of Jeff's Movie Reviews? Subscribe to Writing to be Read for e-mail notifications whenever new content is posted or follow WtbR on WordPress
---